Week 2: Awareness and Regulation
This week we introduce Emotional First Aid – powerful techniques to help regulate emotions and keep ourselves in the "green zone".
In Week 2, we start training our emotional intelligence skills. With the theoretical understanding from last week, we know that awareness and regulation are the key foundational skills that make emotional intelligence possible. This week, we introduce a range of techniques that can quickly regulate our phsyiological state, keeping us in the "green zone", where we have access to all our presence of mind, willpower, and emotional intelligence skills.
Watch videos (0201, 0202, 0204, 0205)

Discuss video content with your accountability buddy

Try the Emotional First Aid techniques, and identify 2-3 that work for you

Send any questions to your coach before the Q&A call

Attend the live Q&A call

There is an optional guided practice to strengthen interoception (feeling what is happening in the body) – try it if you are interested (0203 – The Natural Breath).

Optional – follow any additional explorations that seem interesting
Multimedia Course Content
Video 0201: Emotional Regulation
What does it mean to "regulate" emotions? Why do some people have difficulty with emotional regulation?
Video 0202: Emotional Awareness
A guide to working with the Emotion Wheel.
Optional Guided Practice: The Natural Breath
An optional practice for those who find the Full Breath practice in Week 1 challenging for any reason. This practice improves interioception and decreases stress and tension, allowing you to feel more of the subtle sensations happening in the body.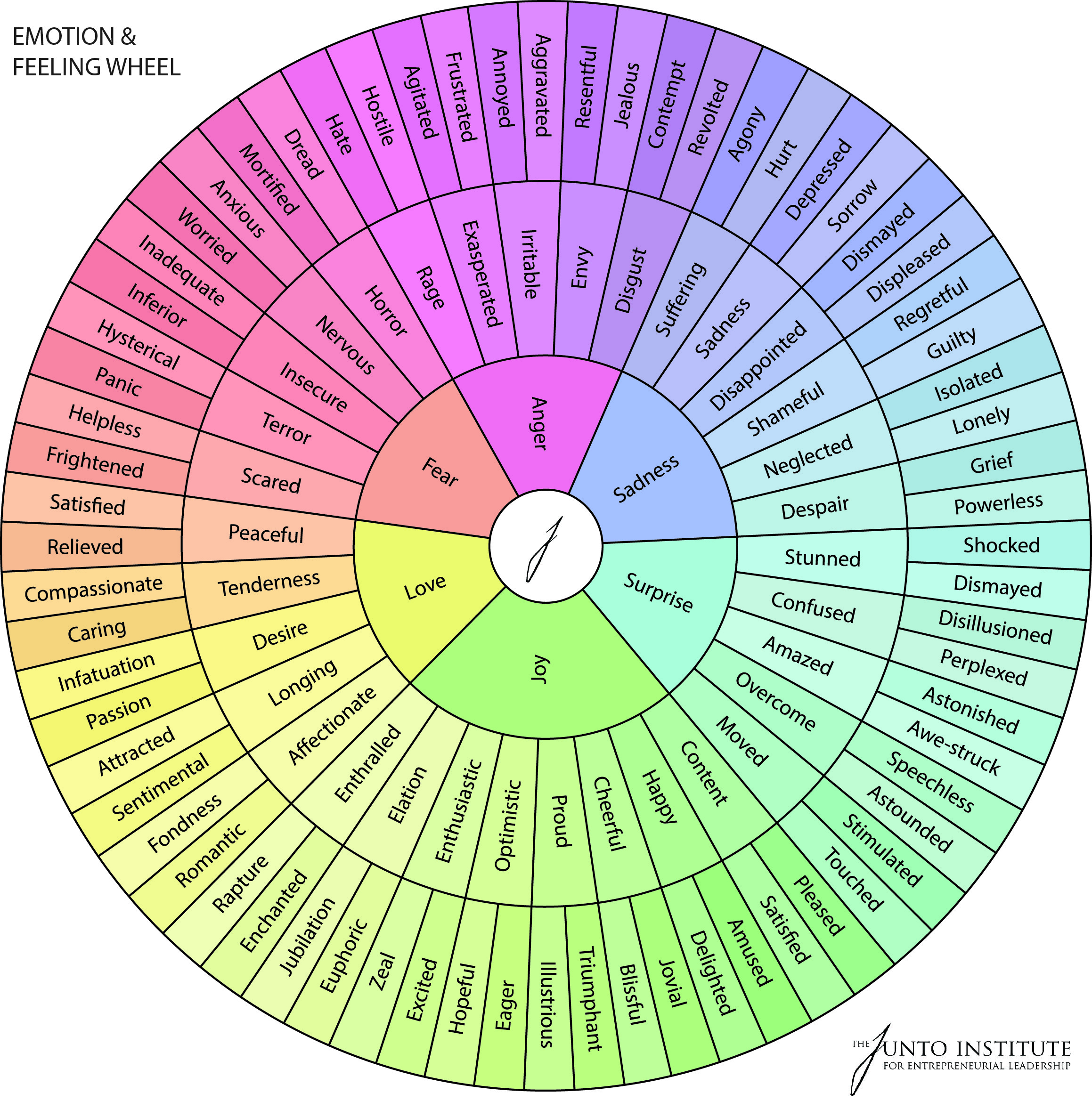 Coming soon: printable .pdf version of the Emotion Wheel.
Video 0204: Emotional First Aid Introduction
Important information about how and when to use the Emotional First Aid techniques.
Video 0205: Emotional First Aid Techniques
More than ten physiology-shifting techniques with instant effect, to help regulate emotions.
Do you recognise anything in yourself from the material in the Week 1 and Week 2 videos? (Emotional Development, Emotional Trauma, Emotional Regulation)

How would you characterize your own emotional regulation? For example, are your emotions generally below the level of your conscious awareness? Do they sometimes (or often) overwhelm you? Are you generally in touch with your experiencing intelligence as you move through the day, or do you need to make a special effort to get in contact with it?

Which Emotional First Aid techniques work best for you?
Frequently Asked Questions
Q: Why can't I regulate my emotions like other people? What's wrong with me?
A: Our culture is very shaming about emotions. People in emotional distress are often told "calm down" or "stop making such a fuss", or labelled "dramatic" and "crazy". No wonder we start to think there's something wrong with us!
None of this criticism and shaming is useful in helping us to develop a skill that most people learned unconsciously as children. Quite the opposite, in fact.
It's not your fault that your parents didn't teach you emotional regulation. There's nothing "wrong" with you. It's the same as if your parents never taught you to cook, or to balance a checkbook, or any other life skill. It sucks, and you have to work harder to learn it as an adult, but it's not a character flaw or a moral failing. It's just a skill you need to learn – and your coach will support you to learn it in this program.
Q: Can someone have both codependent and narcissistic traits when there is a problem with the sense of self?
A: Yes. Codependence and narcissism are both coping strategies to deal with the same trauma – a lack of emotional connection with caregivers as the child learns to deal with the awareness that they are not the all-powerful center of the universe that they have felt they were until now.
The codependent coping strategy is usually adopted by the child who has found some way to get some small amount of positive attention, while the narcissistic coping strategy is usually the last resort of the child who has despaired of ever getting their needs met by other people.
In the recovery process, narcissistic copers who try not to be narcissistic often find themselves using codependent strategies, and codependents often find they need to spend a bit of time being self-centred before they find a good balance between their own needs and the needs of others.
Q: I have a phobia of water. Do I really have to put my face under water?
A: No, you don't have to do any particular practice or technique. If you have a phobia of water, then it's fine to skip that emotional first aid technique. There are plenty of others. Most people will settle on two or three that work for them, and leave the rest.
Q: How do we use the Emotion Wheel?
A: You can work with the emotion wheel in several different ways:
When you are experiencing emotions – take out the wheel, read the emotion words, and see which ones best match your current feelings.

When you are calm – check to see if you are familiar with all the emotions listed on the wheel, and look up the definitions of any you don't know.

Print a copy of the wheel, carry it with you, and use it like a "bingo" or bird-spotting chart – try to catch yourself experiencing emotions that you don't normally notice or recognize.

In a difficult conversation with someone you care about – use the wheel to help you name what you are feeling in real time.

If you get emotional information as a sound, image, or body sensation – read the emotion words and see which ones seem to best match your experience.

Choose an emotion that is less familiar to you – read the word, hold it in your mind, and see if you can remember or imagine a situation to evoke that emotion in yourself in the present moment. Explore how it feels.
References, optional further study and additional practices
Campbell-Sills, L. & Barlow, D. H. (2007). "Incorporating emotion regulation into conceptualizations and treatments of anxiety and mood disorders." In J. J. Gross (Ed.), Handbook of Emotion Regulation (pp. 542-559). New York: Guilford Press.
Cole, Pamela M.; Michel, Margaret K.; Teti, Laureen O'Donnell (1994). "The Development of Emotion Regulation and Dysregulation: A Clinical Perspective". Monographs of the Society for Research in Child Development. 59 (2/3): 73–100. 
 Koole, Sander L. (2009). "The psychology of emotion regulation: An integrative review" (PDF). Cognition & Emotion. 23 (1): 4–41. 
Pulkkinen, L. (1982). "Self-control and continuity from childhood to late adolescence." In P. B. Bakes & O. Brim Jr. (Eds.), Life-span Development and Behavior (Vol. 4, pp. 63-105). New York: Academic Press.
Science-based analysis of emotion, and how to apply the knowledge to make better decisions.
In this book, the latest addition to the Norton Series on Interpersonal Neurobiology, leading neuroscientists, developmental psychologists, therapy researchers, and clinicians illuminate how to regulate emotion in a healthy way. A variety of emotions, both positive and negative, are examined in detail, drawing on both research and clinical observations. The role of emotion in bodily regulation, dyadic connection, marital communication, play, well-being, health, creativity, and social engagement is explored.
About Stephen Porges
Steve Porges proposed the polyvagal theory in 1994, providing insight into the mechanism mediating physiological responses to social and emotional situations. The theory has helped health professionals and their clients understand the importance of physiological state and behavioral regulation in managing emotions.
He has chaired the National Institute of Child Health and Human Development, maternal and child health research committee, and was a visiting scientist in the National Institute of Child Health and Human Development Laboratory of Comparative Ethology. He was awarded a patent on a methodology to describe neural regulation of the heart, and today is a lead neuroscientist with particular interests in cranial nerve responses.
In the Emotional Mastery program, we use the physiological knowledge developed by Dr Porges to understand how our responses to stress and trauma affect our emotions. Most importantly, polyvagal theory offers practical actions we can take to restore balance to our system after our fight-flight-freeze-fawn trauma responses have been triggered.
"The human mind is a relational and embodied process that regulates the flow of energy and information."